We want everyone who visits The Bridal Courtyard to feel comfortable, welcome and special.  Have a little read at the views posted on Google from previous brides.  Check Google for the latest reviews.
We can't wait to meet you !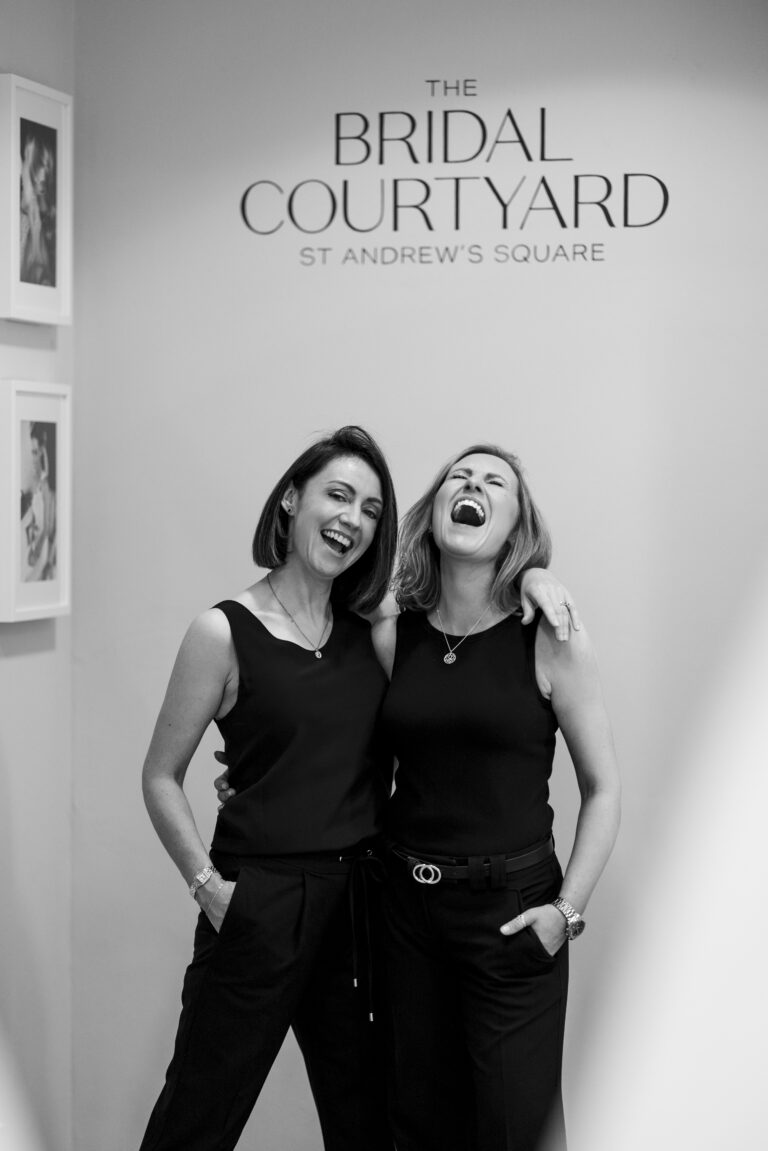 I had the best experience, Lindsay and Simone made me and my friends and family feel so so welcome and calm after a morning apppointment at a different shop that had been pretty stressful! They made the experience really fun and relaxed, were super efficient at getting me in and out of dresses quickly so I could maximise my time and I ended up finding my dress. Thank you both for the best experience, we all had such a fab day thanks to you guys 🙂
Ambreen
---
After attending a few bridal appointments in Glasgow and the surrounding areas, I feel I can confidently say that the dresses at The Bridal Courtyard are 'next level' in both style and quality.
Owners, Simone & Lindsay, have impeccable taste and this is seen in all the dresses they have available in their boutique.
Up until attending my 121 appointment with them, I had convinced myself that the dress in my head did not exist. In fact, I had already seen a dress at another shop which I had described to Simone & Lindsay as being 'the dress to beat.' It was evident from the first one I tried on, that The Bridal Courtyard offer something much more special than I had seen at other shops. The quality of the material and how the dresses move was one of the first things I had noticed when trying on different styles.
Despite being a tad bit nervous and conscious about my body, Simone & Lindsay made me feel very special. They were truly interested in hearing what I considered to be my style and taste. They also included my Mum in the appointment which was really important to me.
I literally cannot thank Simone & Lindsay enough for all their help – my wedding dress was a 'wild card' picked by the girls themselves. I still get excited when I think about how I feel in my dress and how special it is. To think I could have missed out on that if I hadn't booked an appointment at the boutique.
When I eventually tried on my dress, I instantly knew it was 'the one' but being the type of person I am, I knew I had to take some time to think about it. Simone & Lindsay were very understanding of this and did not pressurise me in the slightest to buy from them that day. They understand how important the whole process is! Having said all of that, I returned instantly the next day knowing that it was 'the one' and even if I searched all year, I wouldn't find a dress as special as that at any other store.
I could not recommend The Bridal Courtyard enough! I literally have found the dress of my dreams!
Alison
---
I cannot recommend The Bridal Courtyard highly enough! From the friendly and speedy pre-appointment communication to the warm welcome on arrival to the shop, I knew I'd gone to the right place. The shop itself is not only beautiful but it's stocked with the most elegant and timeless dresses. Simone and Lindsay created a wonderful experience; they listened to what I was looking for, including my bridesmaids really nicely and overall made me feel comfortable, confident and special. Oh and they also ensured Prosecco and tissues were to hand!
I am delighted to have said yes to the dress at The Bridal Courtyard and suggest any bride makes a visit, you really won't be disappointed!
Katie
---
Such a beautiful store and the ladies truly make us feel so special. Compared to a lot of other bridal stores and boutiques, what stood out to us was the complete lack of judgement and pressure when you walk in. Not to mention we found the perfect dress as well! Would definitely recommend!
Laura
---
Lindsey and Simone are the nicest people to deal with and go over and above their job role. They are so welcoming, caring and know exactly how to make people feel. We found the perfect dress for my sister at very short notice and they did everything to accommodate her. We could not recommend them enough-not to mention their store is absolutely beautiful!! They are the perfect girls for this role and have so much passion for what they do! Thanks again!
Ciara
---
My experience at Bridal Courtyard was honestly the best ever. Simone and Lindsay are so welcoming and friendly. The dresses and the store are just beautiful. They took the time to get to know me and truly made me feel so amazing. An absolute must place to visit when you are bridal shopping!
Jess
---
Would thoroughly recommend The Bridal Courtyard. Lindsay and Simone are absolutely amazing at what they do and made me feel so at ease. They really listened to what I thought and made suggestions of gorgeous dresses that I wouldn't have necessarily chosen myself – they really know their stuff! The space itself is beautiful, with lots of natural light and stunning dresses to choice from. Thank you so much for a fabulous appointment, will be recommending you to everyone! X
Jennifer